As a Social Media Strategist, it's important that I keep up with the latest social media trends – and there's currently no bigger trend than Clubhouse. For those who don't know, Clubhouse is an invite-only social app where users can audio-chat with one another.
There are different "rooms" you can join and basically eavesdrop on a private discussion panel with moderators and other panelists. Think of it as the exclusive conference you don't need to leave your couch to attend. AND the best part is, if you're not enjoying the conversation, you can Irish goodbye it by clicking the ✌ button. In fact, it's encouraged. Clubhouse was designed to allow users to seamlessly float from room to room and stay for as long or as little as they want. The catch is – conversations can't be saved or accessed later, adding a FOMO element to the app and the need to tune-in in real time.
If you want to get more involved, you can raise your hand for a moderator to unmute you and give you a chance to speak to the panel. You can even start your own room that's either open to everyone, just those you follow, or a private group of people you choose.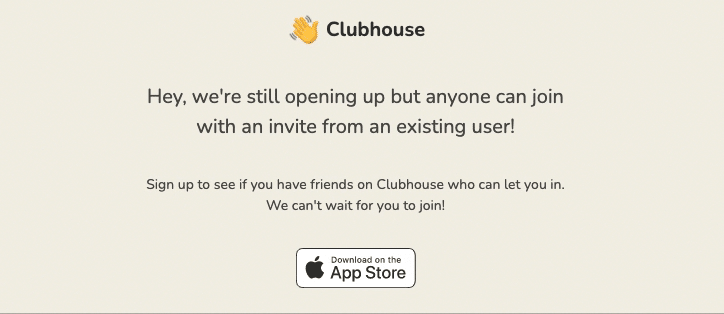 So now that we're all up to speed on what Clubhouse is, why does it matter for those of us in PR?
For starters, there are tons of different clubs you can follow focused on PR, brand building, influencer relations, social media and everything in between. "Public Relations & Media Experts," "Influencer Marketing Secrets" and "Social Media Examiner" are good places to start. If you hit the follow button, you'll be notified when there are new conversations you can join in.
I've personally listened in on some engaging chats, including a discussion on organic Instagram tips hosted by Social Media Mavens and a chat with influencer talent managers called, "We're Not Influencers, We Manage Them" hosted by WIIM (Women in Influencer Marketing). For me, it's been really helpful to listen to other people share similar struggles and realize you're not the only one dealing with that particular challenge. Whether it be tying influencer campaigns back to conversion to validate success for a client or occasionally unrealistic turnaround times on projects, it's nice to get out of your own little bubble and realize there are others who get it – even if that validation is coming through an audio-call.
Working in PR, we're in the business of client satisfaction, so it would be remiss of me not to mention how your clients can integrate themselves into the platform. Clubhouse provides brands a unique opportunity to humanize a company. You're not just the company name – you're the person and the voice behind it. Take Cinnabon for example: the former President and COO of Focus Brands (Cinnabon's parent company), Kat Cole, hosts a weekly "Office Hours" room on Clubhouse and she frequently offered to send people Cinnabon if they sent her their address. Pretty soon, any Clubhouse room she joined would start talking about Cinnabon. Talk about increasing brand awareness!
If you have some extra Clubhouse invites laying around, send them to your clients. Allow them to explore different rooms and engage with the community. From there, encourage them to start a closed room with their peers to gain familiarity with the app before opening it up to the masses to hear what they have to say. Most importantly, encourage your clients to be authentic and stick to their niche. For my clients in the pharma space, that may mean talking about the impact COVID-19 has had on consumer perceptions of healthcare or the next big thing in digital health. Ask yourself where your clients have permission to speak and then go that route.
And for those of you saying "Jaclyn, I need a break from [insert job industry] after working all day, is there anything in it for me?" Well, I'm glad you asked. Speed dating groups? Yep, Clubhouse has those. True crime talks? Check. DIY and home improvement? Can confirm Clubhouse has those too.
But as of next month, Clubhouse may not be the only one to have them. Twitter is set to launch its own audio chat rooms in April called Twitter Spaces. It remains to be seen whether they will be a true Clubhouse rival or deal with imposter syndrome.
Until then, one thing is for certain: Clubhouse is on top when it comes to audio-only chats. So, what are you waiting for? Join the club.
Read more posts from Jaclyn LaSpata:
The Ever-Expanding Influence of Influencers
The Social Dilemma Brings Hope for Society