Our work with many CPG and food brands keeps us ahead of the curve with industry trends. We are often privy to product innovations a couple of years before they launch. Of course, we know we must never lose sight of the consumer experience as the world around them changes.
To our advantage, several generations work together within our agency. The conversations we have allow us to become smarter about trying to connect with audiences relevant to the brands we represent.
Here is a conversation between Rob Schnapp (Gen X) and Kelly Rogan (Gen Z) about the evolution of grocery shopping. Both work within our Food & Beverage practice. And, coincidentally, both graduated from Syracuse University although several decades apart.
Rob Schnapp: I've always done the food shopping for our family. One reason is that my wife hates grocery shopping. The other is that I love seeing my clients' brands in their natural habitat – on the shelves surrounded by their competitors. It's also fascinating to observe how other shoppers interact with products, packaging and point-of-sale displays.
Growing up, I often went to the food store with my mom. To say things have changed would be an understatement. Cashiers used to look at price stickers on every product and punch it in to the noisy cash register which took time and left plenty of room for human error. That must seem like the stone age to you, Kelly.
Kelly Rogan: As kids, we would go to Blockbuster with our parents on Friday night and now we are Netflix's biggest supporters. And like your generation, many of us Zillennials grew up going to the grocery store with our parents where we would see a sweet treat, subsequently beg our moms for it and hope we would not have to put it back on the shelf.
Rob: That's one reason I rarely brought my kids food shopping.
Kelly: Our parents' weekly trips to the grocery store were commonplace in many of our childhoods, so we are familiar with the traditional grocery store experience. What are some of the biggest changes you've seen?
Rob: Well, barcodes came along when I was still very young. That technology was clearly a gamechanger. Checkout was sped up and errors were reduced. Barcodes even played a role in the 1992 presidential election when President George H.W. Bush, running for a second term, got criticized as out-of-touch during a supermarket visit for being wowed by a technology which had already been around well over a decade.
Kelly: Did that go viral?
Rob: It got talked about for a while and I was able to recall it for this conversation. So, in a sense, yes.
Kelly: What do you think about grocery delivery services like Instacart? Because, in my mind, they embody what Gen Z appreciates: convenience and ease. Even if it costs a bit more for delivery, we don't mind.
These delivery services are especially popular in college towns and big cities, where Zillennials may not have cars and don't want to carry our heavy groceries back home. The pros far outweighed the cons. In college, my roommates and I would often place joint Instacart orders; split between four, the delivery fee seemed nominal and it saved us from trekking to the store in the snow.
Rob: Snow? In Syracuse?
Kelly: Some things never change.
Rob: I've admittedly been late to the game of online grocery shopping. Again, that's mainly due to my preference to be in the store surrounded by my personal (super)market research. I knew I needed to try it. Because if services like Instacart are the future of grocery shopping, I want to understand the experience and see what other consumers see (and don't see) in the process. For example, if an in-store display isn't around to draw your eye, how might people find new products? How can I compare ingredients, nutritional facts or unit prices at a glance?
Kelly: Although my generation loves the convenience of accessing a service online, we also know that apps are not the be-all and end-all; there are flaws in these systems. When ordering from Instacart, it will often substitute your choices if the item you wanted is out of stock, which can leave you with a product that you would not have selected. The quality and expiration dates of your produce and meat are also up to the discretion of the delivery service. We recognize it is not a perfect system, but still appreciate its ease.
Rob: Absolutely. I am hesitant about buying produce online. I like to inspect my fruits and vegetables. I look for the furthest away expiration dates for milk, yogurt, eggs, etc., and wonder if a service would be as particular as I am.
I have to say, my first Instacart experience was pretty easy. You mentioned substitutions before. That threw me the first time. When my personal shopper (I'm such a big shot!) messaged me about replacement items, I wasn't paying attention until it was too late. Somehow my Gluten Free Cinnamon Chex cereal was replaced with Cocoa Puffs.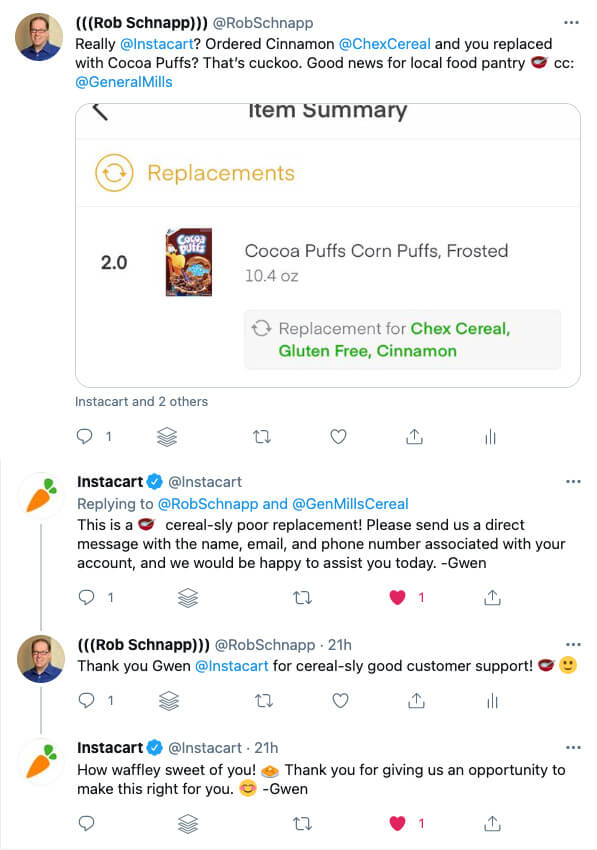 Kelly: For those of us who have taken that big step to move out on our own to a city, Instacart is great! But, due to the pandemic, a growing number of Zillennials find themselves back at home with their parents. Trips to suburban grocery stores may have become routine again, or perhaps our generation has even influenced our parents to try grocery delivery services.
Rob: Do you think your generation is more brand loyal or less?
Kelly: I think more. We know what we want, and we stick to it. From beauty products to clothing to technology and even our food, we are incredibly loyal to brands we already like and can rely on. We don't feel called to peruse the aisles of a mega-grocery store. When we are interested in trying a new product, our purchasing power is hugely swayed by influencers we trust or trends that sweep across social media.
Take Gigi Hadid's vodka sauce recipe for example. She posted it on Instagram, media even covered it and now it seems an entire generation has tried it out, including myself.  After sticking to my previous coffee order since high school, just this month, a popular TikTok trend inspired me to switch up my routine and make my drink at home.
Rob: It really seems like brands will need to try different strategies and tactics in order to attract new consumers. But that in itself is nothing new. The channels are always evolving. Change is the only constant in life. Heraclitus said that! I only know that because I Googled it – which didn't exist when I was a kid.
Perhaps one of our upcoming conversations will cover how 3D-printing has replaced shopping altogether. By then, Gen Z might be sharing their years of wisdom with Generation Alpha (born from 2010 to 2024) or even Generation Beta (born from 2025 to 2039). We shall see.
Learn more about our Food & Beverage experience at Coyne PR.