Home
NEWS
Coyne PR Healthcare Practice Ranks 2nd in the US
According to the PRWeek Healthcare & Pharma Awards

NEWS
2021 Best Midsize Agency to Work For
Coyne PR is honored to announce that it has been named the Best Midsize Agency to Work For in 2021 by PRovoke Media. Coyne PR has continued to live its mission, "to not only be the best agency in America but the best one to work for," even throughout the hardships brought on by the pandemic.
#BestOfTweets
Coyne PR and CeraVe partnered to create one of Twitter's top campaigns of 2021. The social media platform just announced its #BestOfTweets for the year, which highlights those groundbreaking campaigns that drove cultural conversation on the site. CeraVe's #ThankYouNurses campaign was one of only eight campaigns recognized by Twitter. The program ignited a Twitter Takeover Trend with an overwhelming number of people sharing heartfelt messages of gratitude for the hero nurses risking their lives on the frontlines during the pandemic.
Coyne PR was named 2021 Best Midsize Agency to Work For in North America by PRovoke Media and 2020 Best Place to Work by PRWeek. Being the best place to work fosters creativity, which is the cornerstone for all we develop for clients at Coyne. As PRovoke's 2019 Creative Agency of the Year, it is not only big events or major campaigns that require breakthrough creative thinking, but also every part of our business – from message points, to managing a crisis, to a social post. We pride ourselves on thinking of every possible scenario and option before selecting or recommending the perfect approach.
Founded in 1991, we have grown to become one of the Top 20 Independent PR Firms in the United States with a reputation for hard work and a solid dedication to client service. Our integrated approach and capabilities to effectively convey messages across earned, shared, paid and owned media for our clients have garnered more than 1,000 industry awards.
We're proud of our client roster, which includes many of the most respected companies in the world such as Hard Rock International, Shell Oil, Fiat Chrysler Automobiles (FCA), Pfizer, VTech and Beam Suntory to name-drop a few.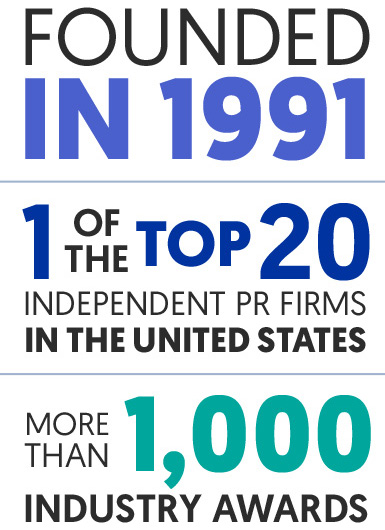 We're Glocal:
Global reach with local partners
We are a proud member of the Worldcom Public Relations Group, the world's leading partnership of independently-owned PR firms that includes 132 partners operating in over 115 cities, 49 countries and six continents. Through the Worldcom Group, clients have on-demand access to in-depth communications expertise from professionals who understand the language, culture and customs of the geographic areas in which they operate.