As PR professionals – we crave, and excel at, communication. Daily work life always included gathering in the communal kitchen or 'social bar' to catch up after the weekend, using the first five minutes of a brainstorm to share a funny story, or stopping by a colleague's office just to say hi. Building relationships through effective and meaningful conversation is not only our job – it's an integral part of the culture at Coyne PR. From company outings like scavenger hunts and happy hours, to themed lunches and corn hole tournaments – we have implemented a company culture that feels more like a family than just a place to work.
So, when COVID-19 required all to shelter-in-place – away from our "work wives" and cubemates – the Coyne Team got creative in how we preserve and continue to grow our collaborative spirit online. This unique set of circumstances challenged team members of all levels from every practice to contribute their special and unique talents for the greater good of our community. The result has been several fun, engaging activities that allow us to embrace social distancing while staying connected.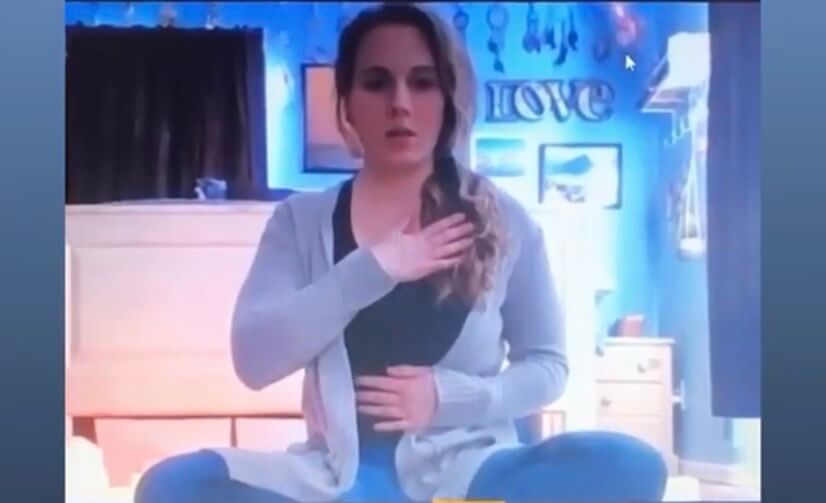 Putting the "Om" in Home
There's been a lot of emphasis on the need for self-care during this time – mentally, physically and emotionally. Enter Meg Schuster, Social Media Strategist and yoga and meditation extraordinaire, who stepped up to provide us with a weekly dose of "om." Her mid-week, 30-minute meditation series has provided a much-needed break for those who need a reminder to take some time to breathe, reset and recharge.
"Don't Get Crazy!" Cooking with Computer Mark
A recent Coyne staff survey found that one of the things we miss most about the office is "Popcorn Thursdays" – a weekly highlight marked by the smell of buttery, fresh-popped kernels wafting through the halls. To satisfy this culinary craving, we are now treated to a weekly cooking class hosted by our resident IT expert who we fondly call "Computer Mark." I think most Coyners would agree that Mark has many hobbies – from music and concerts, to hunting and trapping – but his cooking skills and creativity in the kitchen gave us a new way to connect with him and our Coyne family virtually. Since we're all home cooking more often, this has been a great way for us to break up the monotony of time spent prepping, cooking and cleaning. Each week Mark distributes a list of ingredients featuring many staples you're likely to have in your pantry. Thus far, we have collectively made dishes ranging from chicken francese over spinach to fried chicken and enough bean salad to feed and fuel the Harlem Globetrotters 10 times over. Up next? Classic pasta and potato salad just in time for the Fourth of July!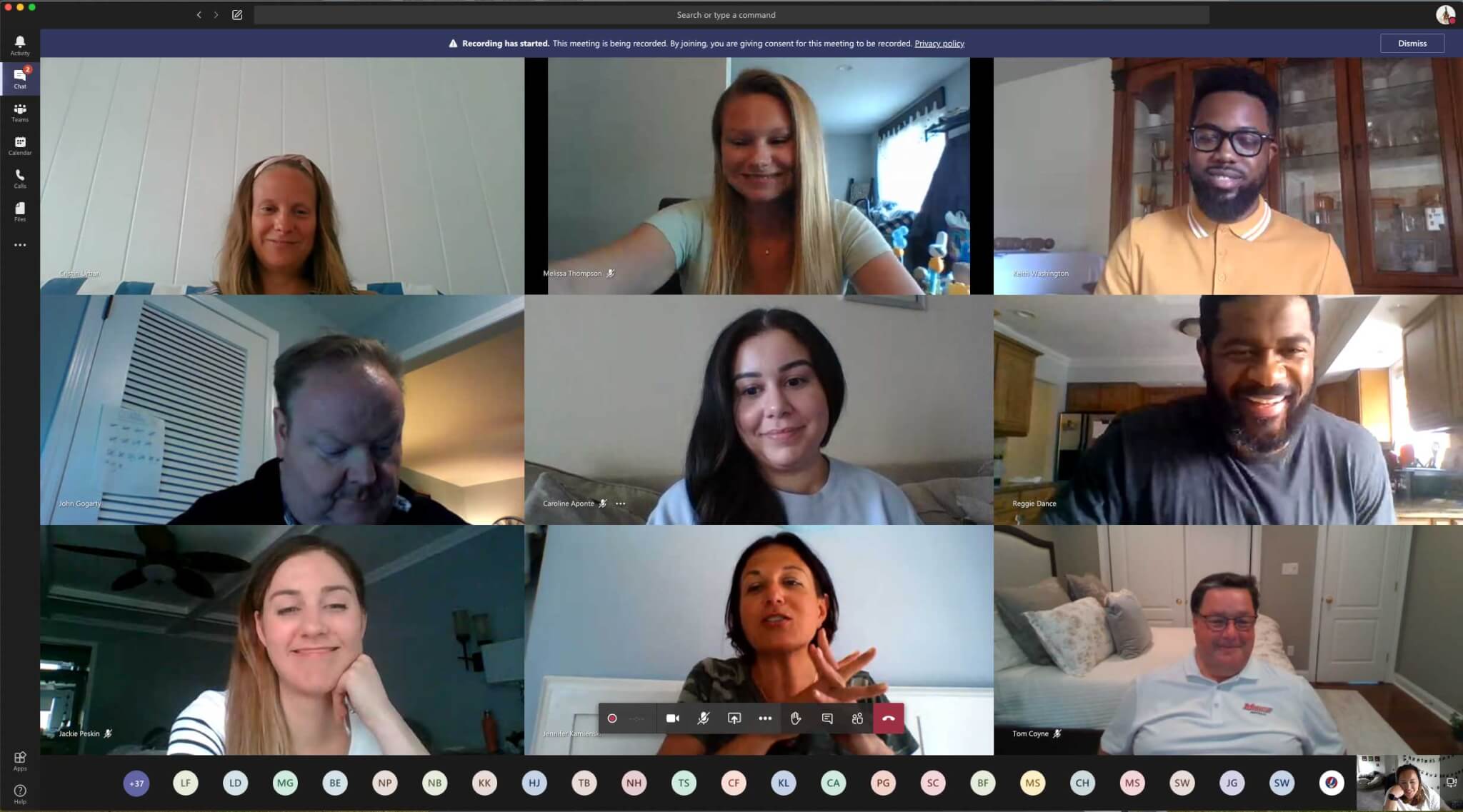 Storytelling with Jenn
Storytelling has been a top industry buzzword for many years. Traditionally, digitally, socially – storytelling is top-of-mind for clients, which means it's top-of-mind for us. Being able to connect with audiences and tap into their feelings, ideas and attitudes is an important part of any successful PR strategy, and it's been an integral part of us staying connected while #WFHwithCoyne. To keep our creative ideas and stories flowing, Executive Vice President Jenn Kamienski dreamed up a storyteller session. Each week Jenn selects a universal topic and colleagues submit their stories by title only to increase the mystery and intrigue. Storytellers are chosen at random using the very scientific method of picking names out of a hat (special thanks to Jenn's son, Ben!) and from there, the magic begins and the stories unfold. Not only has it been a fun way to stay engaged, but it has taught me a lot about my Coyne family. Who knew Nick Bucci wanted to be a priest? Or that Kaitlyn O'Neill has a sassy Grandma? I now know not to eat Stacey Kobeszko's cooking, and that Shana Walther had a run-in with a rat during quarantine. This highly-anticipated series keeps Coyners laughing and our skills sharp for grabbing attention – ready for the next story our clients need us to tell.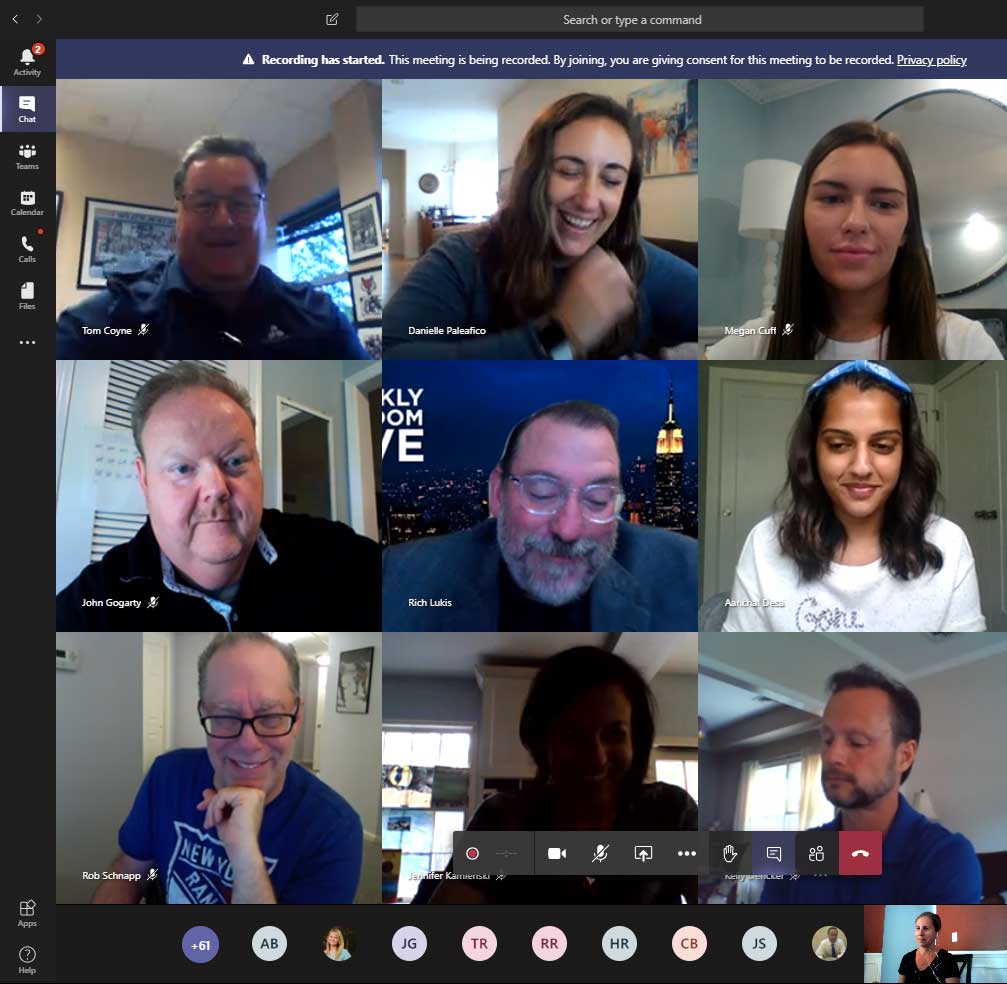 Business as Unusual & Weekly Wisdom
Many of you might be familiar with, or even subscribe to, the Coyne HotSheet – a monthly round-up of campaigns that we feel are particularly creative, cool and media-worthy. When COVID-19 began to impact our ability to execute ideas and campaigns as planned, we were challenged to find innovative and inspirational solutions to continue telling our clients' stories. Enter "Weekly Wisdom/Business as Unusual" – a newsletter highlighting the ways in which we have been able to pivot and create successful events, campaigns and programs for clients during COVID-19. For example, bringing tourists to the Cayman Islands to virtually celebrate Earth Day, leveraging the at-home workout trend with Champions + Legends, joining forces to #AyudaEnEspañol (#HelpinSpanish) with the League of United Latin American Citizens (LULAC) and Hornitos Tequila to ensure COVID-19 information and resources were accessible in Spanish. This was so popular among staffers that we turned it into a weekly virtual talk show, "Weekly Wisdom Live" featuring our president Rich Lukis as the host interviewing team members and diving more deeply into the campaigns. It also features all the schtick you'd expect from a late-night talk show host – watch out Jimmy Fallon!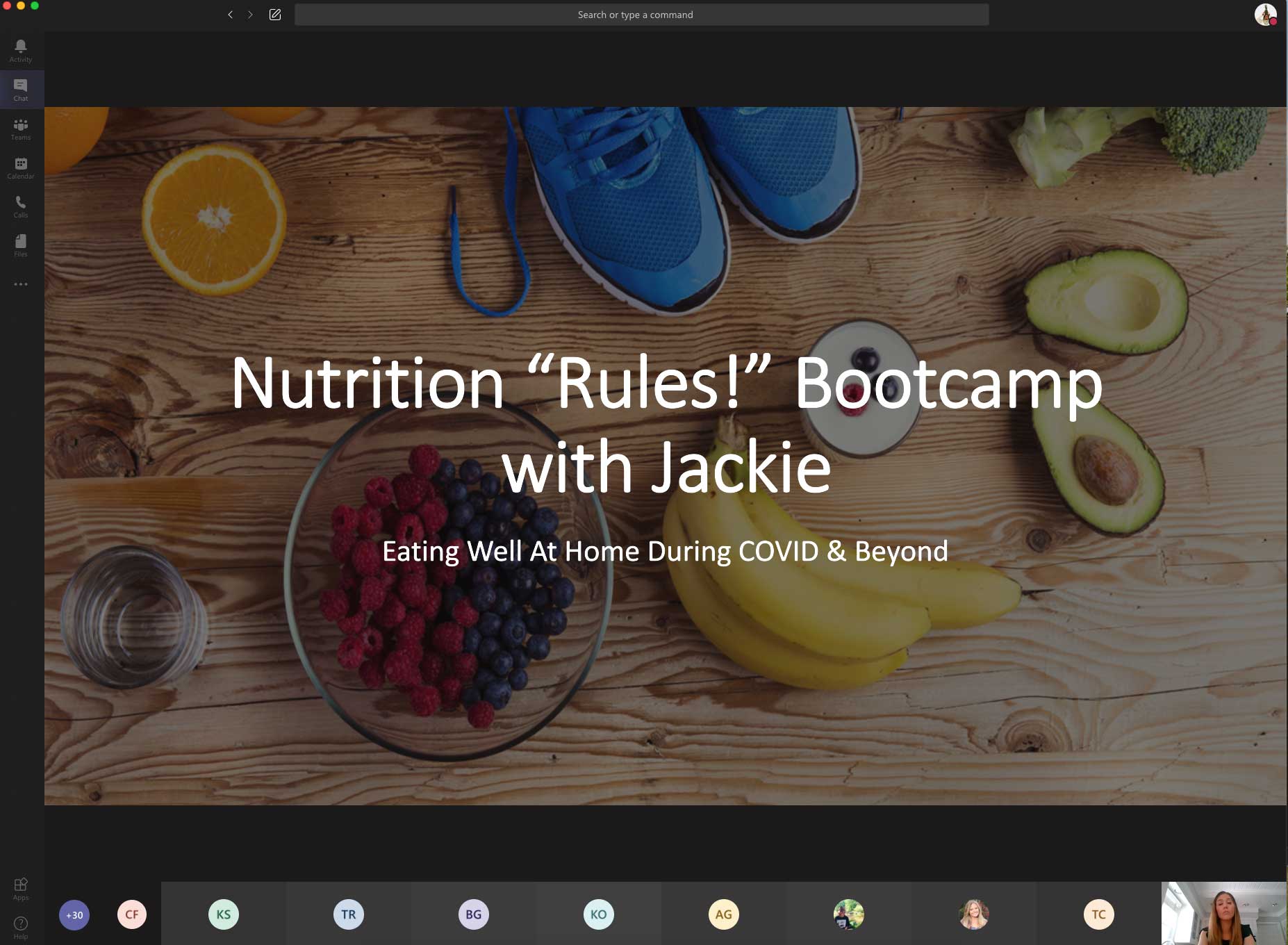 Nutrition Rules! Bootcamp with Jackie
Let's face it, keeping up a healthy diet can be challenging on its own, let alone being home 24/7 with your refrigerator and snack drawer always within reach. Routines have been shattered and stress and anxiety levels have increased as many struggle to balance work and home life under one roof. Cue Jackie Peskin, Assistant Vice President and resident nutrition guru, who graciously volunteered to whip us all into shape (or at least help avoid the quarantine 15) with her virtual nutrition bootcamp series. As we all continue to adjust to this new normal, Jackie shares her top tips for establishing a healthy routine and eating a more nutritious diet at home. Among the line-line up, "Secrets from a Smoothie-holic" will reveal her go-to superfood smoothies complete with a live demonstration, while "Meal Prep Magic" will take us behind her fridge door as she teaches us a solid meal prep strategy to help keep us fueled with good nutrition all week long. Bon appetit!
#CoynePelotonCrew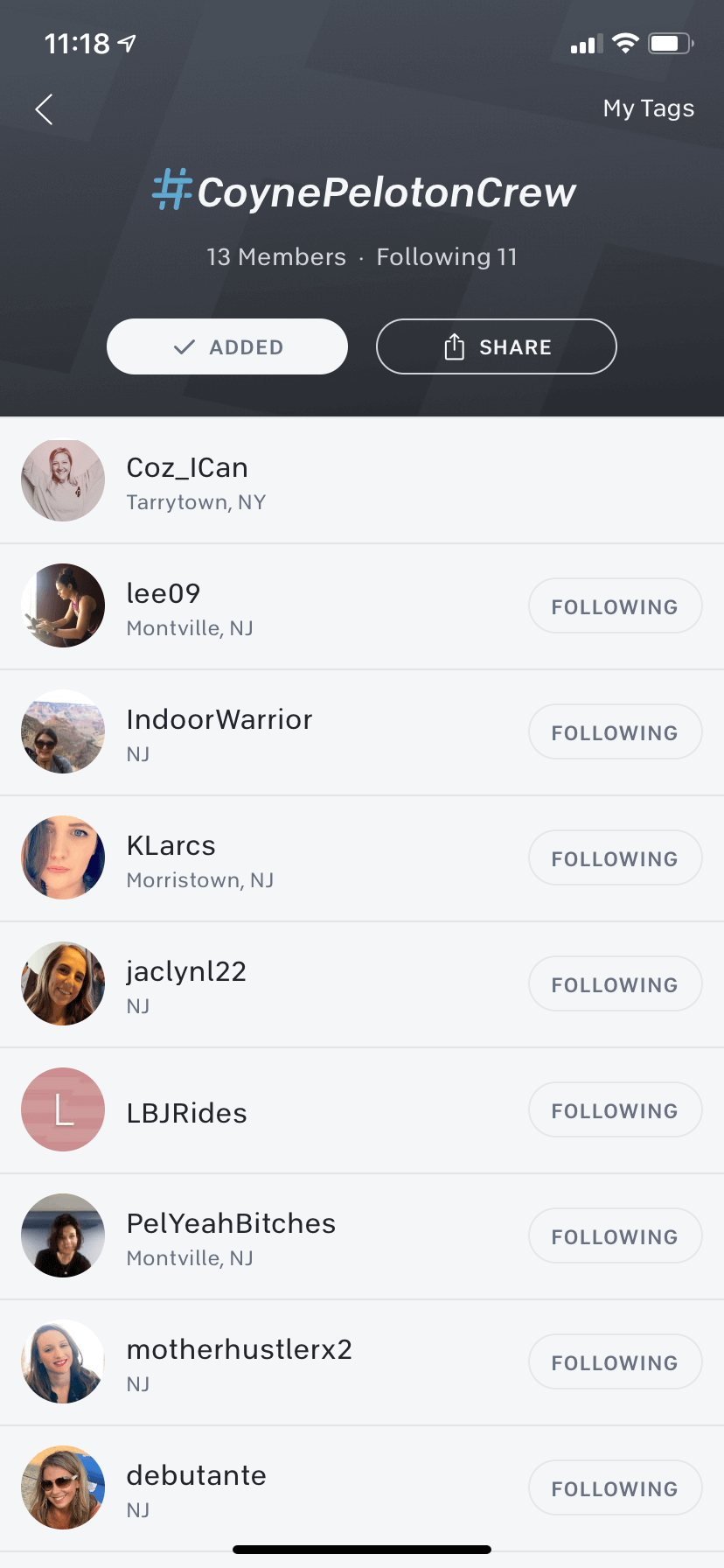 Now that you have your nutrition in check, how about that workout routine? One interesting thing we've witnessed during #WFHwithCoyne is that we're getting a glimpse into our co-worker's daily routines. From meeting their spouses, kids and pets, to literally seeing their 'home office' surroundings, we discovered that there were more than a handful of Peloton bikes in the Microsoft Teams video chat backgrounds. When we dove in a little further, we found that many more Coyners had taken advantage of 90-day free trial the on the Peloton app. A staff-wide email proved just how big our #squad was! We've now embraced our #CoynePelotonCrew family with a dedicated email address designed for riders, runners and yogis to share their favorite rides and workouts, and we even make plans to take some together. We have joined each other on the leaderboard – high-fiving and pushing each other – because, if you're a Peloton-user you know, #TogetherWeGoFar.
One Agency, One Team(s)
Regardless of the multitude of practice areas at Coyne – from healthcare to beauty to auto to pets and everything in between – we have always embraced a fully-integrated approach that calls on the best people needed to meet our clients' needs, regardless of their team. Thanks to platforms like Zoom and Microsoft Teams, we have proven that we are actually more connected than ever. Aside from our regularly scheduled work meetings, we have used Teams to gather for weekly staff meetings, brainstorm, happy hours and more!
The culture at Coyne has always been one built around the concept of "work hard, play hard," and we certainly weren't going to let a national health pandemic get in our way. If anything, we'd say that this crisis has made us more collaborative, connected and creative than ever before. What's next you may ask? A virtual scavenger hunt? A pet parade? A virtual shopping experience? The sky is the limit, and with our "on point" communications skills and creativity, we'll be adding the next great idea to our continuing roster of activities as long as we #StayHome and work together.